Model: 13WX78KS, 2/2011
Only getting about 2.5mph out of the mower forwards/reverse. I've been lurking as this is a common problem but I think I've hit all the major points. New MTD upper/lower belts, and the routing is correct. The variable speed pulley seems to be working, but I'm starting to think maybe not all the way? When I apply pressure to the main drive belt the upper belt that drives the transmission does get wider, but I don't think it gets wide enough, maybe that center part isn't moving completely up/down? I found one youtube of a guy showing how his worked, and the belt almost seemed to ride around flush with the outside of the pulley, mine however only gets to about halfway.
I have also replaced the tension spring for the upper belt pulley with a new one.
My upper belt at rest, no gas: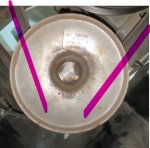 My upper belt full throttle, pedal to floor:
Video of my pulley in action:
Video I'm comparing my pulley to:
Last edited: