Joined

Mar 23, 2015
Threads

1
Messages

5
My Honda HRX with a hydrostatic cruise control transmission became slow, and I decided to take it out of the mower and disassemble a part of it in an attempt to investigate the cause. One thing I noticed was that the input (pulley) shaft to the main hydraulic plunger pump was hard to turn and felt rough, as if it was binding up.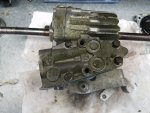 After removing the top vent / fill cover and inverting the unit over a container to drain the old oil (which was very dark gray), I removed the bottom cover (four bolts hold it on) to get at the main pump - this cover is under spring pressure, so loosening each of the bolts a little at a time is advised.
Photos of the internal pump components are included here.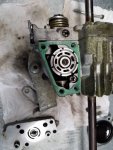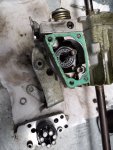 Once the cover is removed, I suggest turning the unit on its side, or even right (pulley) side up, to remove the piston disc - otherwise many of the parts could fall out and get into the pump housing. There are seven plungers, all contained inside a rotating disc, with each having an internal compression spring. The closed end of each plunger bears against a radial roller bearing, which is designed to tilt when the orange drive speed control lever (on the handle) is engaged. This tilt angle modifies the plunger stroke, thus building pressure and forcing oil to the drive motor.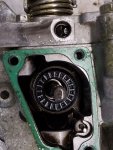 I found the hardened steel plungers in the pump had a wear pattern, and sharp burrs, at their closed ends; in addition, the associated bores in the rotating disc were scored.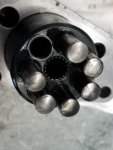 One of the plungers was stuck in its bore and would not move, and the others moved if forced, but roughly. I deburred and polished each plunger, and carefully honed each inner bore, then reassembled everything, verifying that it all worked smoothly. Then I filled the trans with fresh Honda Hydro oil, spun it up on the bench to remove any air bubbles. This is FYI, just to show some of the internal working parts of the pump; I haven't ventured into the motor (axle) side at this point.
Last edited: