Joined

Oct 14, 2018
Threads

3
Messages

65
Pushed primer button down and held it to stop possible air flow and it made no difference. Later analysis of the primer tube showed no leaks.
Rather than drill out the main jet of the old carb, I installed a new carb. Now it doesn't rev up like it should although it runs fine. I can make it rev up by moving the blade at the top red arrow with my finger. With the machine off, this blade moves easily and the spring at the bottom red arrow makes it go back to a low idle position with no problem. The choke mechanism is set correctly as shown at the right. It does seem to work.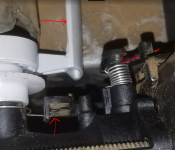 I ran out of daylight, so next I'll take the engine covers off and be sure the fan of the flywheel can blow air to the white throttle blade on the carb. Thoughts?
Last edited: