Like many models, my Fastrak SDX has an instrument panel that is used for multiple configurations (different engines, options, etc.). The way Hustler elected to do this was by cutting the metal all the same but using different decals for each configuration. The problem with this, is that is leaves just a "sticker" covering an open hole in metal in an area where hands tend to go - along with other things like low-hanging branches. In my case, mine had developed outlines of the cutouts so you could tell that something was there, but ultimately a low-hanging branch got me and put a hole in the decal. I could tell the decal had become brittle so it probably didn't take much.
I could have just left it and lived with it, but I like my machine and wanted better. I could have replaced the decal - but that would require taking out all the controls and really just get me the same thing I had before. I could have just bought another light from Hustler to fill the hole, but I didn't like the idea of having a light there doing nothing - even though I was willing to live with that. So I dug a little and figured out who the OEM is that makes the lights and dug some more and found that they have available in their catalog a "dummy" filler that looks just like the lights but is just black and doesn't have any electrical components. I contacted the company and verified the part number, and verified that they make their items to order with a 250 piece minimum order - which I was not going to buy. So I went looking for vendors. I couldn't find any vendors that stocked them or were interested in selling me a small amount. I searched everywhere online and talked to a number of different vendors.
Fortunately, I stumbled on one who seems to have mislabeled them and had 20 of them sitting around since 2010. They happened to have a picture that I randomly saw while looking through their inventory They had a minimum order amount so I went ahead and got all 20. They just came - I used a razor knife to trim the decal away, and popped one in in under a minute. Perfect fit. If anything, it actually looks a little nicer than the original!
My questions are: Does anyone else have a hole (or more) in the instrument panel or was this just a freak thing with my mower? And, is this something other people might be interested in since I have another 19 of them or should I just sock these away someplace and forget about them?
Before: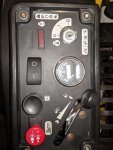 After:
Adam
Last edited: