Joined

Jun 8, 2012
Threads

321
Messages

6,749
You have many choices when it comes to which kind of leaf blower you can to buy. Some things to consider include how long you will be using it (will you want to hold a handheld blower for a few hours straight?), how much debris you will be trying to move, and also what you want it to be powered by.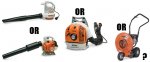 (
The Four Types of Leaf Blowers: Which is Right for You?
)
----------------------------------------
Electric Handheld Blower:
This is good for light use, where you don't need to move a lot of debris, or you don't like dealing with gas or mixing gas/oil. There are many brands to choose from for electric handheld blowers, including Black and Decker and Toro. A lot of the time these come with a bag to vacuum up the leaves, or you can just blow them. But you need to be near a power source.
B&D:
Black & Decker Tools | 240 MPH Blower Vacuum BV3800
Toro:
Toro | Ultra Blower Vac (51599)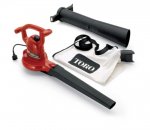 Gas Handheld Blower:
These are good for anywhere from light use to moderate/heavy use. They can move more debris than electric blowers (in general), and are more portable since you don't need to be near an outlet. But you need to deal with gas. Most are 2-cycle (mix of oil/gas), but some are 4-cycle. There are many brands that sell these (ranging in price). You can go for durability and get an Echo or a Stihl.
Echo:
ECHO PB-255 Easy Starting Low Noise Handheld Leaf Blower - ECHO USA | ECHO USA
Stihl:
BG 56 C-E Handheld Blower - Powerful Gas Leaf Blowers | STIHL USA
Gas Backpack Blower:
Backpack blowers are better for lots of debris or when you will be operating it for longer periods of time. Again, there are many brands for these, but Stihl and Echo are some good ones.
Stihl:
BR 550 Backpack Blower - Professional Back Pack Blowers | STIHL USA
Echo:
ECHO PB-500H Emission-Compliant Tube-Mounted Throttle Backpack Leaf Blower - ECHO USA | ECHO USA
Walk-Behind/Wheeled Blowers:
These are a step up from a backpack blower. They are made for the property owner or lawn care worker who needs to clear a lot of area or thick leaves fast. They come in self-propell or push options. On most you can adjust the up/down direction of the nozzle. A brand that makes these is Billy Goat.
Billy Goat:
F13 Contractor / Municipal | Billy Goat Industries, Inc.
Others:
The above list is what most of the blowers available are. But there are also some others. They include large tow-behind blowers (such as the following one from Toro) and also blowers to mount to the front of your ZTR (seen below).
Toro Tow-Behind Blower:
Toro | Debris Blowers
Billy Goat blower for your ZTR:
FZ For Your ZTR | Billy Goat Industries, Inc.
--------------------------------

.........
http://www.echo-usa.com/
.........
http://stihl.com/
.......
http://www.toro.com/en-us/pages/default.aspx
........
http://www.billygoat.com/