Joined

Apr 16, 2018
Threads

102
Messages

671
The gravely spindles with the pulley's welded onto them, I spent all day making a chuck to fit the two slots at the bottom. I took a thick washer, drilled two holes in them. Then took a couple of allen head screws and welded them into the holes. Then grinded the two sides off of a big nut (one that fits a 15/16th socket. Drilled out the hole. Put it on the spindle assembly so that the two screws would fit into the slots right. Then welded it all together.
Everything fit like a glove. Put my two long bolts through the pulley holes into the assembly mounting holes, and put the torch to it. After heating up for a while, I put the 1/2" impact on it, and it barely moved. I got it off. But it took every bit of 15 minutes getting it loose. At one point, after it had backed away from the housing far enough, I had to put a small pipe wrench on it. That impact just wasn't cutting it. I noticed, the pulley was a little boogered up from the bolts keeping it from spinning.
After getting everything apart and replacing the bearings, I tried to screw the nut back onto the spindle. And it was just as tight going on, as it was getting off.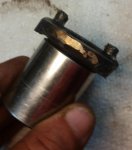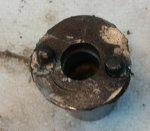 Last edited: