Hey guys!
I got fast and good help in another thread about a B & S engine question, so I figured I'll throw in a question about a weird mower that was given to me for free. It's a Husqvarna Royal 43S and it's not like any mower I ever seen before. The chassis is all plastic and it looks like a boat!
The problem I'm having is the knife holder underneath. I can't for the life of me figure out how to get it the damn thing off. It's attached to a fan wheel that sits on the engine shaft. Since everything is plastic I don't dare to use much force. Also I'd like to save the fan disc if I can.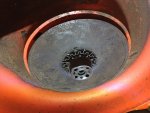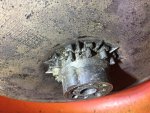 The machine seems to be in good condition otherwise with a real nice engine so it would be a shame if this plastic thingy would stop me from getting it running and sold. Worst case I'll just hack it off and save the engine for some other machine and dump the rest of the boat!
Any thoughts?
Thanks in advance!
/Fred